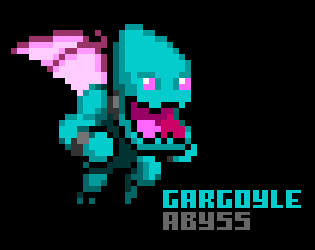 Abyxsis
Update on 6/1/17: I've been doing more work on this under a new name, Abyxsis! Join me at twitch.tv/imaginarymonsters to check out what's happening.
I made Gargoyle Abyss for the Ludum Dare 30 Jam. You play as a gargoyle on an adventure through the abyss. It's a very short game (only one room / level currently) but I'm hoping to expand on it. I recently decided to hide the Gargoyle Abyss demo since it is so short. I may still expand on it in the future.
Gargoyle Abyss was made using Game Maker. Mike Turzanski did the soundtrack for the game (please give his Soundcloud a visit!)

https://soundcloud.com/solidgoldhuman
Feel free to look me up on Instagram to stay in touch with any current dev updates I'm working on.
http://instagram.com/peterlazarski
Thanks for checking out Gargoyle Abyss!