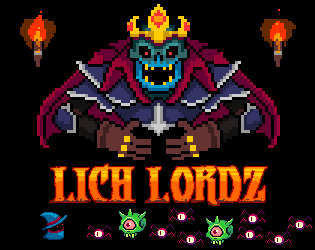 Lich Lordz
A downloadable game for Windows
You are a lowly hedge wizard in the service of the Lich Lord. Tonight at midnight your master decided to have a bit of fun...with your life on the line!
Fire your spells quickly and destroy 100 beasts to please the Lich Lord so you can survive another day.
I made Lich Lordz for the Ludum Dare 31 Jam. It's a rough little demo but fully playable. See if you can survive the creeping hordes of eye spiders and cyclopean skulls!
Robert Mostyn did the chiptune soundtrack. Check out his Bandcamp! http://bclikesyou.bandcamp.com/

Come hang out with me on Instagram too! http://instagram.com/peterlazarski

Download
Click download now to get access to the following files: